Services
At Herald Press, we are your printing experts. Whether it's a Business, School or Home office project, we'll get the job done quickly and efficiently, for less than you'd expect to pay. And, for your added convenience, we have the capability to print high speed copies, from your computer disc or you can e-mail us your files. Our reputation is built on meeting deadlines. With 44 years of combined experience, our staff is very knowledgable and here to help you in any way we can, just ask. We guarantee quality service, time after time.
Highspeed Digital Copying
Digital means quality in today's business world, and at Herald Press our high speed colour and black & white copier/printers have made high-quality, short-run, digital printing an affordable option for businesses of every size. Each copy is an original all its own, with crisp, clean images and clear, sharp edges.
At our print shop, we're pleased to offer print-on-demand digital printing services at a price you can afford. Our equipment is ideal for:
One-to-one marketing. Now, you can affordably personalize your company newsletters, sales presentation handouts, and other printed materials for each recipient, targeting their specific needs.
Print-on-demand. Eliminate waste by ordering shorter runs of sales flyers, trade show handouts, spec sheets, and other printing that requires frequent updates. Have us preprint the "shells" and then drop in the most up-to-date information later using our high speed copiers.
Catalogs and manuals. Get laser-sharp output at a price no office printer or copier could match.
Business Necessities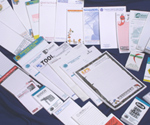 Business cards, letterhead, invoices, cheques, order forms, and a large variety of marketing materials. All of the things you need to keep your business running smoothly and your name in front of your cusomers. Quality supplies with your company name and logo go a long way toward leaving a lasting impression of professionalism and organization. Herald Press can help you take your company beyond printing out black and white invoices on the fly, and help you create a stunning professional image.
Labels
Need Labels? Look no further than Herald Press. We're the source for all your labeling requirements. Whether you need labels on a roll, sheet or individually, in any size up to 11 by 17 inches, we'll get the job done. And we offer a great selection, including weatherproof vinyl, and metal stocks. Great for everyday requirements and special maketing giveaways.
Marketing Materials
Successful business leaders know that you have to get your name in front of your current and prospective clients and keep it there! What better way than marketing giveaways that customers will use in their day to day routines. Note pads, wall and pocket calendars, refridgerator magnets, vacation planners, folders, to-do lists and more. Herald Press can help you choose the marketing materials that are right for you. Our items are proven to be used over and over again- your company name will become a fixture in your potential customer's home.
Printing For Credit Unions
Since 1994 Herald Press has supplied Credit Unions across Canada with many types of forms and marketing material. Some examples are: Journal Vouchers, Teller Forms, Withdrawal slips, ATM envelopes, RRSP & RIF forms of all types, Commercial Account deposit books, Business Cheques for their commercial accounts, passbooks, letterheads, business cards, scratch pads, promotional items (pens, piggy banks, swipe guards, mugs,etc.), presentation folders, annual reports, brochures, product and services pamphlets, statement stuffers, newsletters (general, youth accounts and GEN Y demographics), post cards, direct mail campaign, share offering documentation, just to name a few. And all backed by our 100% Money-Backed Guarantee.

Contact us today to discuss your next Credit Union project.
Direct Mail
Reach your customers effectively and efficiently with our direct mailing services. We can automatically address postcards, newsletters and more from your exising electronic mailing list. We're also Canada Post experts! That's right; we have the knowledge and equipment needed to save your company money on their next direct mail campaign and can bundle and package the mailing properly for Canada Post's requirements. Plus, we can also help you decide which areas of the country to mail to, right down to the individual letter carrier walk!